CURRENT EXHIBITOR LAYOUT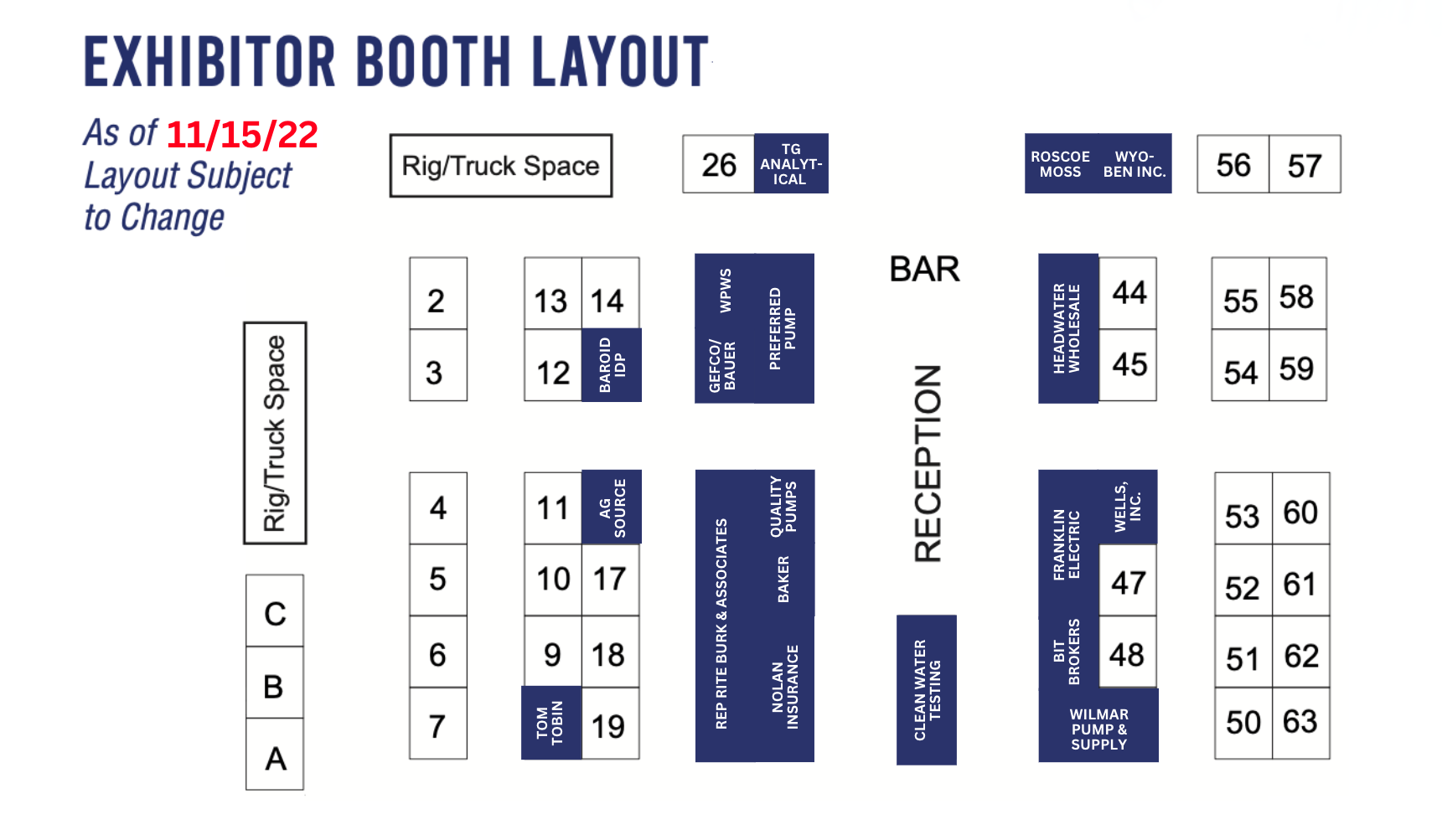 DETAILS
EXHIBITOR BOOTH: Each 8x10 booth will be supplied with an 8-foot draped/skirted table, one 8-foot backdrop with 3-foot side drapes, and two chairs. A booth sign displaying the company name is provided. It is critical that your company name is printed legibly on your registration form, as this information is provided to Valley Expo for sign printing. Booth spaces are reserved on a first-come, first serve basis. A map indicating reserved spaces will be posted above and updated as spaces are reserved. It is your responsibility to check this website to verify booth placement and availability.
SPONSORSHIP: Conference sponsors will receive hierarchical priority in the tradeshow (if registered before December 1st). Conference sponsors will be recognized with signage in the exhibit hall, at meals, and in the onsite program.
RIG: Each exhibitor registering to bring a rig onsite, must comply with all rules set forth by the Kalahari. A copy of these rules will be included in your exhibitor packet. Please verify that your display will not violate any of these rules. Any violations that result in a fee will be the sole responsibility of the exhibitor. Any exhibitor bringing a rig must provide the WWWA with a cellular phone number of the rig driver or an onsite contact in case of emergencies.
ELECTRICITY: All orders for electricity must be placed directly with Valley Expo. Order forms will be included in your exhibitor packet. Please note that additional charges are applied if the service is not ordered in advance.
SET UP: Setup will take place from 5:00pm-10:00pm on Wednesday, January 18, 2023 and again from 7:00am-12:00pm on Thursday, January 19, 2023. Staff from Valley Expo will be onsite during these times. There will be an Exhibitor Happy Hour from 6:00pm-7:00pm on Wednesday, January 18th.
SHOW TIMES: The exhibit hall will be open from 12:00pm-3:00pm on Thursday, concurrent with lunch and the two afternoon Continuing Education sessions, and from 3:00pm-5:00pm. On Friday, the exhibit hall will be open for Continuing Education attendees from 7:00am-9:00am.
PRIZE DONATIONS: Please consider donating an item and joining us for the Scholarship Fund Silent Auction on Wednesday evening. Door prize drawings will be held immediately prior to the Bowling Tournament, which begins at 8:00pm on Thursday evening. Exhibitors decide if they will draw another name for attendees not present in the evening or follow-up with them to handle their prize. Please indicate on the registration form if you wish to donate. All donations must be turned in to the registration desk by 3pm on Wednesday. You may also ship donations to the WWWA office by January 10, 2023 at 6737 W Washington Street, Suite 4210, Milwaukee, WI 53214.
TEAR DOWN: Tear down will begin at 9:00am on Friday, January 20th. Valley Expo will be onsite again during this time.
FREIGHT: All details pertaining to freight will be provided in the Exhibitor Kit. Fees are the responsibility of the exhibitor.
WPWS MEETING: The Wisconsin Pump and Well Suppliers will be having their annual membership meeting on Thursday, January 19th from 11:00am-12:30pm.